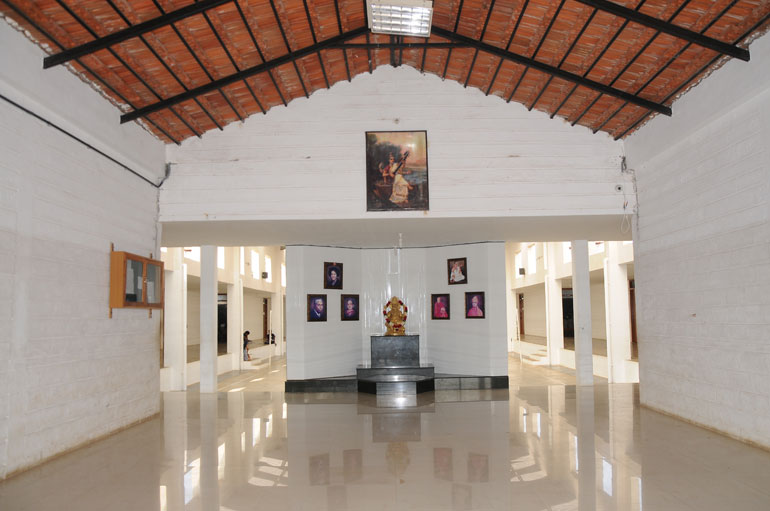 Overcoming sorrow through service
The seed for the establishment was sown by a sorrowful incident.The loss of a daughter in an accident at the young age of 21. The grieving father Dr. P. Surendra, eldest son of Dr.D.Parwathappa Smt Nanjamma sought comfort in the idea of helping; better the lives of the helpless and unfortunate. A discussion with the members of his family threw up options from starting an orphanage to an old people home or a vocational training center for women. It was finally decided to set up a residential school for the under privileged young girls in the memory of his daughter RASMI.
---
Dr.D.Parwathappa through out his life served the community in the form of medical practice, immunizing and treating People from cities to remotest villages against deadly diseases such as plague, cholera, malaria and typhoid as a lone crusader at a time, when qualified doctors were very few. He also supported bright and poor students in their educational endeavors. So large hearted was he, that he would literally adopt such children, brings them home to live with his own family and help them in every way till their education was completed. This proved to be an inspiration, which saw the formation of the Dr. D. Parwathappa Memorial Trust, and thus was born RASMI.
---
The school is built and maintained primarily by the funds ploughed in by Dr.P.Surendra, who after completion of his MS and PhD. in the USA settled down in England to establish a firm engaged in the manufacture of Electronic products. He is actively supported by the members of his family who devout time and efforts despite their busy schedule. The dedicated efforts of the members of the family ensure that the school is always under the watchful eyes of a family that has transformed education of under privileged young girls in to a full fledged crusade. The trust was headed by Mrs. Nanjamma Parwathappa, wife of Late Dr. D.Parwathappa who was equally responsible along with her husband for the transformation of a host of lives.
---
Members of the trust carefully scrutinize the beneficiary and her family prior to admission. A policy of selecting poor girls from families with single parent, orphans, destitute, and disturbed families has been adopted. This is to ensure that only the truly needy are selected while extending the benefits to as many families as possible. Since the school began functioning in the year 2000 it has added a class every year up to tenth standard. The selection of personnel such as teachers, warden, cooks for Rasmi is also among helpless, those are in distress, those who have fate against them and women let down by their families.
---
Rasmi Residential School is run under the auspices of the Dr. D. Parwathappa Memorial Trust. The trust consists of several social minded individuals with different backgrounds who help run the day to day activities and drive the long term vision for the school.